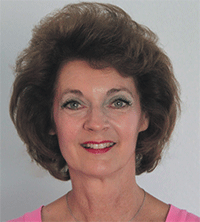 Lisa Veach
Biography
Lisa Veach listened to music before her birth, as her mother was a wonderful violinist and concert mistress in various orchestras. Lisa began her musical training at the age of six by taking piano lessons from Ruth Trued, one of the best organists on the West Coast. She sang in the youth choir at church and later with a traveling teen singing group from her church. Her junior high music teacher noticed her voice and gave her private vocal lessons for a number of years.
Lisa went to Northwest Christian University in Eugene, Oregon where she received a Bachelor's degree in theology with a double minor in Christian Education and music. While there she continued with voice lessons, added organ lessons, and took some piano lessons. She traveled with The Waylighters, a singing group representing the University. She studied voice with Neil Wilson at the University of Oregon. Later she took private vocal lessons from Ewan Mitton, famous for learning and teaching the authentic Bel Canto ("beautiful singing" in Italian) art of singing as founded on the school of Niccolo Porpora.
Lisa enjoys music. That enjoyment has lead her not only to teach, but to serve as a worship leader for various churches. In that capacity she designed the service and led vocally and from the keyboard. She has written and directed dramatic musicals for youth and adults, and served as choir director, soloist, and accompanist.
Along with music, Lisa enjoys reading and outdoor hobbies in the sun such as swimming, hiking, biking and gardening. She has written a woman's Bible study entitled Beautiful You! (Inside and Out!). This fun, relevant study uses the book of Esther to delve into issues women face today. It is available on Amazon, from WestBowPress, and at www.lifeforthesoul.org.